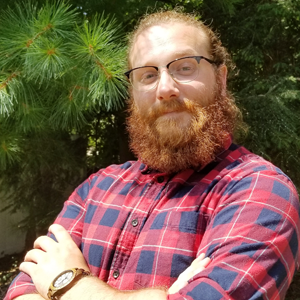 Phone:
Email:
Degrees and Certifications:
Education: BA Classical Civilizations and History College Name: Loyola University of Maryland Classical Academy Teacher Since: 2019 Subjects Taught: Latin
Devin Novakoski

I am a voracious reader and huge admirer of the works and world of fellow Classicist/Linguist J.R.R. Tolkien. My other major hobby is music. I primarily play Bass Guitar and have a constantly expanding collection of vinyl LPs, currently over 400 albums strong! I have a lifelong love for the outdoors and the natural world. I enjoy fishing, hiking, kayaking, and the forest is my favorite place to enjoy a good book!
Salvēte, Omnes!

As you are hopefully aware of, we are beginning to transition to a new Latin textbook for class, "Wheelock's Latin"!

Please make sure you pick up your copy from the school!

"Wheelock's Latin" is a classic Latin textbook, and one I spent many years learning from. This text helped me master the Latin language more than any other I have worked with.

It is a rigorous book. A lot of information is presented at once, and it can often be confusing if you do not read it with great care. This is why I will be directing you to specific pages, paragraphs, and exercises to focus on as we continue to explore the Latin language!

One of the first challenges we will have with our new book is transitioning to a new set of Vocabulary. We will continue to use our previous vocabulary words in class, but quickly adapt the new words used in "Wheelock".

It is very important that you take the time to start exploring these new words outside of class, either by looking through the new textbook yourself (which may be overwhelming) OR by visiting the Class Quizlet Page, where I will focus on the most important words to learn.

As always, please email me or see me in Office Hours if you need any assistance!

Valēte,

Magister

Salvēte Omnēs!

Please make sure that you join my new "Office Hours Classroom" on Google Classroom!

I have emailed each student an invitation link to join the group (title "NEW OFFICE HOURS GROUP" and sent on 11/16).

Once you are in, you will be able to find me here every school day from 2:20PM to 3:05PM sitting in the Google Meet and waiting to help you with any problems you may have!

This is a great resurce for anybody who feels that they need a little extra help dealing with what we are doing in class, or if you just want to pop-in and say hello to your favorite Latin Teacher!

Join Today!

Valēte,

Magister