Below you will find a message from ComfortZone Camp, which is providing a support group for children who have experienced the death of a family member or friend. Please see the information below for more information.
2021 February Comfort Zone at Home Support Group – An opportunity for campers ages 10 - 17 (18 if still in high school) who have experienced the death of a parent, guardian, sibling, or friend to connect with others, share stories and discuss coping skills. Parents/Guardians of campers are also invited to attend and participate in a group for adults.
Dates: Thursday evenings: February 4th, 11th, 18th, and 25th
Time: 7:00 PM – 8:30 PM EST
Location: Via Zoom
Please contact me at kelder@comfortzonecamp.org with any questions.
Registration is now open and space is limited. Parents and guardians can click this link to begin the application process. Please note children and adults are not enrolled in camp until the screening process is complete and you receive an acceptance email.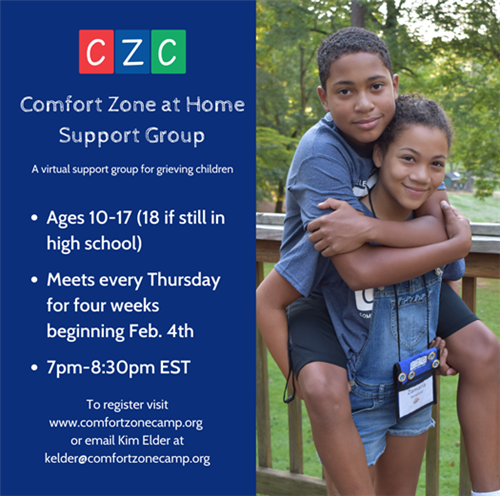 If you have any questions, please let me know. Thanks,